Newly optimized with some clever electronics to improve safety, security, user-friendliness and efficiency, the Smartlift SL 1008 Outdoor is our largest lift to date, combining a lifting power of 1 tonne with an impressive reach.
The unit is now fully remote controlled with even the suction release mechanism being operated from the remote unit, meaning you don't have to shift positions to release. The unit is now also fully traceable – simply use the newly released Smartlift App to pinpoint the unit's position on digital mapping software.
Machine data such as working hours, services and safety inspections are all logged with the Smartlift App so the owner can keep up to date logs on the equipment's condition. This feature is especially useful for hire/rental companies.
The new software allows for Smooth Proportion rotation of the drive motor. This means the drive and lift system is only used in direct proportion to the operator's movement of the controls. This makes the electrics and hydraulics far more efficient which in turn reduces noise and increases battery life.
Large window sections such as shop fronts and panoramic vistas are easily and precisely handled using the multifunctional rotary head. Other applications where this heavyweight has proved invaluable is the installation of bulletproof, triple glazed and even fireproof glass.
Download Brochure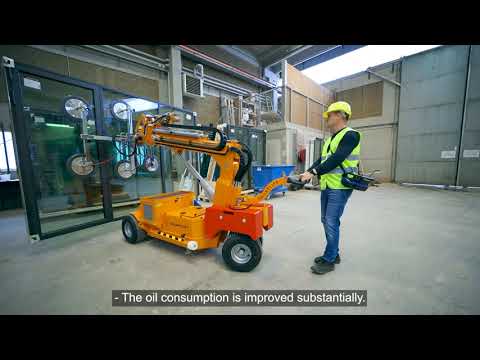 Key Features
Largest in the Smartlift range
Up to 1000 kg lifting capacity
Multifunctional, rotary head
Smooth Proportion rotation of the drive motor
Fully remote controlled
IoT integration with 3G, 4G and 5G connectivity
Compatible with the Smartlift app
Unit tracking via Smartlift's digital mapping software
Remote logging of machine data
Wide tyres, poly-filled and puncture proof
Available Models
Specifications - SL 1008 Outdoor
| | |
| --- | --- |
| Lifting cap. arm in/out | 1,000 / 280 kg - 2,200 / 620 lbs. |
| Lifting height | 4,400 mm / 173 in. |
| Extension of arm | 2 x 830 mm / 2 x 33 in. |
| Tip from horizontal | 42° back/ 86° fwd. |
| Side shift | 100 mm /4 in. |
| Charging voltage | 230 V / 110V |
| Charging time | Approx. 8 hrs. |
| Battery | 4 x 134 Ah AGM |
| Running period | Up to 9 hrs. |
| Front-wheel drive | 2500 W AC |
| Suction pads | 6 x Ø400mm / 6 x Ø16 in. |
| Width | 1,010 mm / 43 in. |
| Curb weight | 1,480 kg / 3,260 lbs. |
| Class | IP 65 |
Optional Extras
Smartlift glazing robots are available with a wide range of optional accessories. The robot can be quickly transformed into a lifting crane or a forklift truck with the right purpose-built accessory. Follow the link below to download the full list of Smartlift accessories.